Jeffrey P. Campisi, DDS
---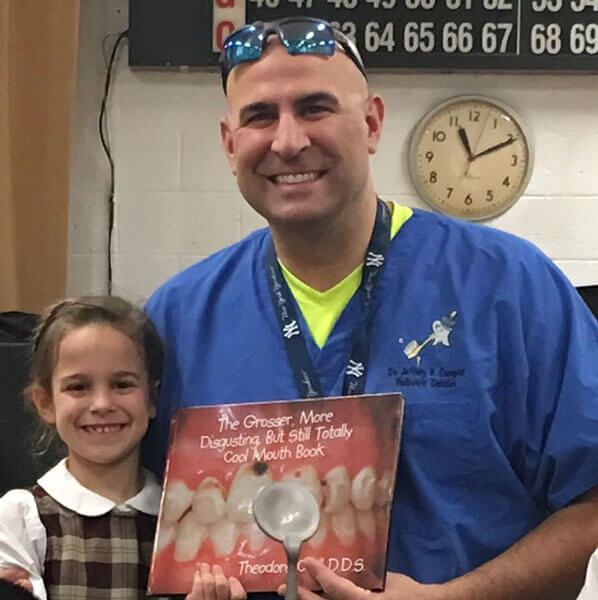 ---
Dr. Campisi has been a resident of the community for over 30 years. He grew up just a few blocks from our office and graduated from the local Shoreham Wading River High School. Since opening his practice over ten years ago, Dr. Campisi has been dedicated to the community he loves. He often says, "I don't treat patients, I treat my neighbors, my family and my friends". He is a committed sponsor of local youth sports programs. He has been a constant participant in community events and has set up the "Smile Squad Scholarship." This scholarship is awarded to a graduating senior who has shown a commitment to helping children with special needs.
Dr. Campisi graduated from West Chester University in Pennsylvania with a degree in Biology. After receiving a basketball scholarship, he helped lead his team to the Division II National Tournament. Dr. Campisi was named team captain for his leadership skills and was awarded the Pennsylvania State Athletic Conference Scholar Athlete Award for his excellence in the classroom as well as on the basketball court. As a senior, Dr. Campisi was also named to the National Who's Who Among America's Colleges and Universities, a honor for which he was nominated for by the University faculty and staff. Since graduating, Dr. Campisi has helped to establish the Dick Delaney Endowment Fund. Named after his former coach, the fund is a scholarship program that is aimed at helping underprivileged youth pay for their college education.
Dr. Campisi earned his dental degree from the University of Buffalo, School of Dental Medicine. He voluntarily also earned a minor in Pediatric Dentistry and Community Dentistry, adding to the already rigorous course load. These additional courses, which were based out of the Women's and Children's Hospital of Buffalo, focused on advanced education in the treatment of children as well as children with special needs. As a graduating senior, he was given the "Pediatric Dentistry Department Award" by the faculty of the Pediatric Department for his outstanding performance in the field. Dr. Campisi was also awarded the "Persons With Disabilities Award", presented to him by the faculty for his volunteer work and dedicated treatment of patients with special needs.
After dental school, Dr. Campisi was accepted into the Pediatric Dentistry Specialty Program at Montefiore Childrens Hospital in NYC. Here, he was able to gain extensive experience in all aspects of pediatric dentistry. Working within the Children's Hospital, Dr. Campisi became an expert in both hospital and sedation dentistry. He also had the opportunity to treat patients at the Rose Kennedy Center in the Bronx, a hospital set up by the Kennedy Family to establish a place where severely mentally and physically challenged patients can be treated. In his second year, Dr. Campisi was named as the Chief Resident of the Pediatric Dentistry Department. He is currently an active member in the American Dental Association, New York State Dental Association and the Suffolk County Dental Society. Shortly after he graduated from Montefiore, Dr. Campisi became Board Certified and has recently been named a Fellow by the American Board of Pediatric Dentistry.
Dr. Campisi opened his office over ten years ago, married his high school sweetheart and moved back to the area to live locally with their three children. In his free time, Dr. Campisi enjoys competing locally in sprint triathlons, coaching his children's sport teams, cheering on the Yankees and spending as much time as possible with his family (including LuLu, their Pug) Their favorite family past-time is camping.
---